Frequently Asked Questions
How often should I service my Outboard?
Annually or every 100 Hrs, whichever comes first.
Can I mix different coolants in my engine?
Essentially different coolants should not be mixed. Compatibility should be checked with the manufacturer.
How often should I service my Inboard?
Annually or every 200 Hrs, whichever comes first.
Can you travel to my boat?
Contact our team and we can discuss your vessel location and the type of work that is required.
Do you carry out Pre-Purchase Inspections?
Yes, contact our team to discuss your Pre Purchase Inspection.
Do you carry out boat trailer repairs?
Yes, we can supply parts, light engineering and maintenance repairs along with advice if your trailer requires replacing. Contact our team to discuss your boat trailer repairs or replacement.
Do you sell and maintain electronic equipment?
Yes, we are suppliers of Ray Marine electronic equipment and may be able to help you with repairs or trouble shooting with other brands. Contact our team to discuss the type of electronic equipment your vessel has and the problem that you are having and whether you require an upgrade.
Can you supply engine sound proofing?
Yes, there are several grades that we can supply along with the fixing glue and tape. Contact our team to discuss the type of sound proofing you require, the area size and what you are wanting to achieve.
How do I measure the shaft size on an outboard?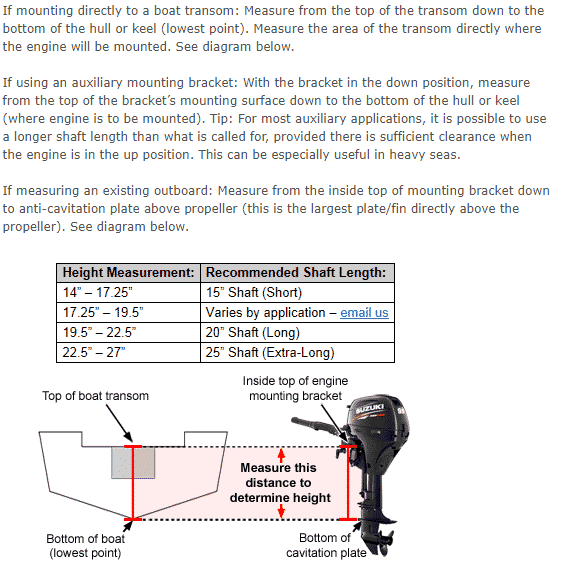 Will I void my Suzuki Warranty if a non-authorised dealership performs the maintenance on my Suzuki outboard?
An authorised Suzuki Marine dealer must complete all of the initial installation, pre-delivery and service inspections. All servicing must be completed as scheduled in the Owner's Manual and is at the owner's cost. If the service inspections are completed outside of the authorised Suzuki Marine dealer network, then the warranty terms may be void or reduced to a period of three (3) years from the date of purchase (for recreational use). Please refer to your Service and Warranty Manual for full terms and conditions
What is an offset driveshaft on a Suzuki Outboard?
The Suzuki offset driveshaft positions the power-head forward of the driveshaft, for improved balance and less vibration on the transom. This is a tested and proven design, making for a compact engine and places the axis of inertia, to a point where the vibrations produced are at a minimum.
How do I find my serial number on my Volvo Penta Inboard engine?
The serial number is a unique identifier of your engine and the key to efficient servicing and the correct ordering of parts. It can be found on the type plates and labels, as described below.
The plates are located on the right side of the cylinder block and on top of the valve cover (early and late versions).
A Engine designation
B Specification number
C Serial number
D Engine power at operating speed

How do I find my serial number on my Suzuki Outboard?
The Suzuki Outboard Motor MODEL, PRE-FIX and SERIAL NUMBER are stamped on a plate attached to the clamp bracket. When ordering parts and/or accessories it's important to properly identify the exact model.


ENGINE SERIAL NUMBER
A second engine serial number plate is pressed into a boss on the cylinder block.
How do I find my serial number on my Honda Outboard?
All model names start with "BF" but these two letters do not appear on the engine cover sticker.

The frame serial number is found on or near the stern bracket, stamped into a metal plate. The number uses the form "BXXX-XXXXXXX" and may also be referred to as the product identification number.

If you can't find the model name or frame serial number, contact us.
Engines
With our experience as qualified marine engineers and as registered dealers of reputable brands; Volvo Penta, Cummins, Suzuki Marine and Honda Marine, we can offer an array of engine options and can match an engine and propulsion system to meet your needs.
We can also co-ordinate and manage your entire engine repower and liaise with your boat builder if this is a requirement for fitment including any electrical work and electronic upgrade.
Marine Parts
We stock a wide range of marine parts with supply across NZ and the Pacific.
For sound advice and product support, contact our team for all your requirements whether it be a full refit of your engine, or any part from A-Z
Marine Services
Pacific Coast Marine provides servicing and repair to all marine systems on all makes and models and can support you with arranging other independent marine service suppliers to carry out additional work.
Go full noise and experience the thrills, spills and sounds of summer with our great Fully Fitted offers on selected models, for a limited time only.
read more